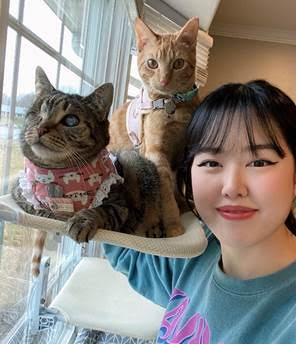 Jess was born and raised in Michigan and moved to Delaware in 2016. As a child she was always interested in working in the veterinary field and had a love for animals. She majored in advertising design in college but soon after decided to pursue her dreams and change majors, therefore being accepted into the Delaware Technical Community College Veterinary Technician program in 2019. She graduated and passed her Veterinary Technician National Exam (VTNE) to become a licensed veterinary technician (LVT) in 2021.
Soon after she started an internship at an emergency/specialty facility in Delaware and then started working there as an LVT in the emergency/ICU department. She grew to love learning about critical care and watching as the patients she cared for were able to reunite with their families. Now she is very excited to join VidaVet Veterinary Urgent Care as a member of their team!
Jess's fur family includes one dog, a cocker spaniel named Lucy, and four cats who were adopted/found as strays named Lily, Mango Habanero (aka miss spice), Bori, and Haru. In her free time, she likes to spend time with her animals, go on food adventures, and binge watch all of the Korean dramas she can find!