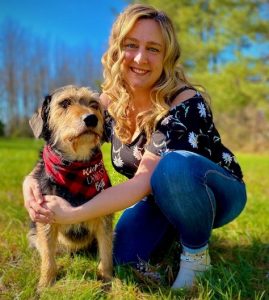 Kim was born and raised in Delaware and has always had a passion for animals. As a small child, she had always said she wanted to work with them. In high school, she worked at a kennel and was a receptionist at a general practice veterinary hospital. In college, she began working as a general practice veterinary assistant and also became an accredited pet trainer at a local pet store. In 2010, she graduated from Delaware Technical and Community College with an Associate's Degree in Veterinary Technology and passed the Veterinary Technician National Examination (VTNE) to become a licensed veterinary technician (LVT). She completed an internship at The Hope Center for Advanced Veterinary Medicine in Vienna, VA and then went on to work there in emergency and internal medicine for a year and a half following her internship. In 2012, she began working as an emergency technician at a large emergency/specialty facility in Delaware. She was proud to become Recover CPR certified in 2019 and has loved learning and practicing veterinary emergency/critical care for the past 10 years.
Now she is excited to start her new journey in urgent care as a hospital administrator and an LVT at VidaVet Veterinary Urgent Care and knows how important it is to bring a sense of comfort to her patients and their owners during difficult moments. She enjoys educating pet parents on how they can better their pets' lives by keeping them healthy and happy.
Kim is very close with her family. She lives with her fantastic husband of 10 years, Dan, and their two adorable children. Their favorite things to do as a family are going out on their boat and traveling to new places as often as they can. They have two dogs named Rita and Noah and a bird named Ollie.