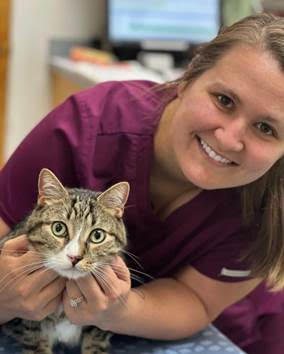 Paige was born and raised in Delaware but has worked at various clinics across the country. She grew up in Smyrna, running the roads with local large animal veterinarians while still in middle school, cementing her love for veterinary medicine at an early age.
Paige holds a bachelor's degree in Biochemistry from the University of Maryland. Having been in the veterinary field for a little over ten years, she has always had a passion for helping animals and will continue to do so at Vida Vet Urgent Care.
In her free time, Paige enjoys spending time with her husband and three children, taking trips to warm weather, and shopping at Sam's Club. They have various animals that come in and out of their house from bottle feeding farm animals to senior dogs for rehab. She currently has 2 dogs- Sully and Hopper, and 1 cat- Prudence.